Born to a Cabaret Singer Mother and named after 50's singer Brenda Lee....there is no doubt that the lovely Brenda lee was born to be a pin-up!
Brenda is modeling the Cindy Apron in "Farmers Daughter"
All Photos courtesy of EML Photos
All Hair accessories courtesy of Little Lily Designs
I had the opportunity to get to know pin-up model Brenda Lee when she was working with Eva from EML Photos for a shoot to model one of my aprons. Brenda embraces the pin-up lifestyle from A-Z, she is a mom that loves to cook and take care of her children, and agrees that there is nothing wrong with looking cute doing it! She is truly a pleasure to work with and a lovely kind hearted gal! I learned allot about her doing this feature and I admire her for staying such a strong and beautiful person, a person that I am sure her mother would be proud of.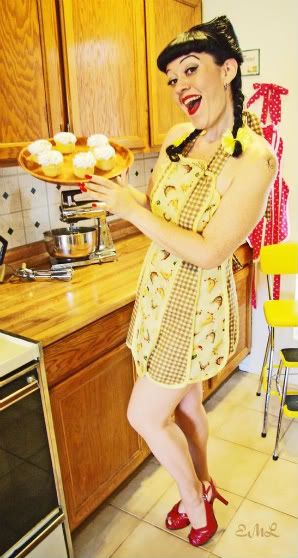 *I love the "Ballad of Brenda Lee" that you have on Modelmayhem.com, it sounds like
you were born to be a pin-up model literally?
Well, being a pin-up is who I am. Its my whole lifestyle. I mean I wake up every day and listen to oldies and rock n roll, crank up Mr. Cash any chance I get, and put on my red lipstick and pencil skirts and head off to my fabulous job. I literally get asked on a daily basis if I am going to a 50's event or if I am in costume for some reason. I have never really followed trends but I am noticing that this style is becoming quite the trend, so I am excited that it is being more accepted and admired.
*Your mother was a Cabaret Singer...what was it like being on tour with your mother growing up?
My mother was fabulous. She was such an inspiration. We traveled a lot and I went to a lot of different schools but it helped me become the outgoing person I am today. I had to always make new friends and adapt to change and I truly believe that is why I am so outgoing and embrace the changes in life that are brought upon me on a daily basis. I am very fortunate that I have my mom's music to listen to and look back on to keep her legacy alive. One day I hope to be able to get up on stage and sing a song in my mother's memory. Her favorites were Patsy Cline and Brenda Lee.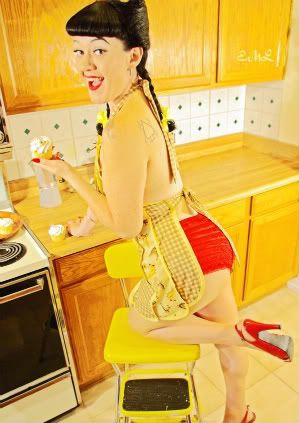 *What a fascinating childhood?
My childhood was totally fascinating. I mean most of my childhood was in the Bay Area, which was a blessing. It is so pretty and fashion in the Bay is so diverse so I was able to learn a lot. I grew up with 4 awesome big brothers and I guess that helped keep be super girly. I was always trying to get their attention and dragging them to my dance recitals and making them put on talent shows with me!
*How did you discover the world of Pin-up modeling?
I had a photographer actually take my picture one day at a car show, and someone mentioned the likeness of my style to the old WWII pin-ups so I researched it and became more fascinated with the classy pin-ups of the past and decided to pursue it more.

*Does your Pin-up persona carry into your everyday life?
Oh yes in every way. That is why it is such a pleasure to work with you because when I am cooking homemade potpies or Cupcakes at home, I get to look stunning and glamorous in your aprons! I love to cook, and I believe even in the kitchen you need to accessorize properly. You will see in a lot of the photos and concepts I create for you, that is me, Brenda Lee, every day.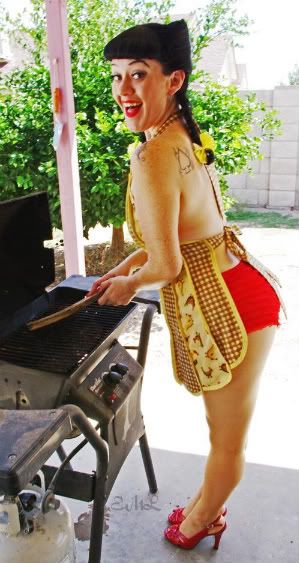 *What is your favorite style to model?
Pin-Up of course.


*What is your greatest inspiration?
My greatest inspiration is my children. They are a reflection of me and I want to be able to leave a legacy for them to remember. I want to teach them that true beauty comes from within and it resonates for the whole world to see.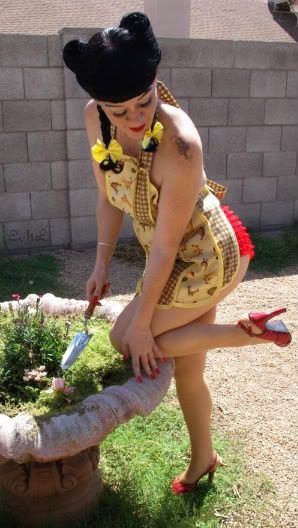 *What is your life's ambition?
My life's ambition is to learn and continue growing as a person. I want to live, laugh and love, (how cheesy but true). I am reading a book right now called The Game of Life, and I really love it. I want to be happy and make others around me happy and joyful. My goal is to retire one day and see my little one grow up to be happy, productive, successful adults.
*Do you have any current projects you are working on at the moment?
I am always working on something. I just finished a calendar shoot for the troops, and I am working on updating some Bandit Clothing Catalog items. Her summer playsuits are just divine and fun. I am also going to be working on your Holiday aprons, so I am totally excited about that.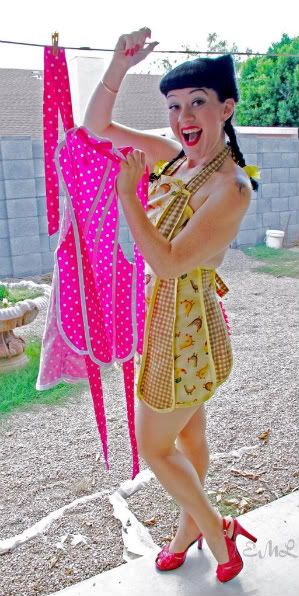 *What is one thing that not many people know about you that you would like to share?
I am now doing stylist work. Teaching pretty ladies how to be a pin-up and put the look together. It is so much fun; I really enjoy the work that I do.
*Three words that best describe yourself?
Emotional, Funny, and Loving!
*A question for all my cupcake lovers......what is your favorite type of cupcake? ;)
Are you kidding me! All cupcakes are my favorite!! I do love cherry and chocolate together though!

Thank you Brenda for taking the time to chat with me and being so kind to model my aprons <3

Where to find more of Brenda Lee:
http://www.myspace.com/lady_spade
http://www.modelmayhem.com/688009
Special thanks to:
www.EMLphotos.com
www.littlelilydesigns.net
You can also check out more pics of Brenda and purchase the "Farmer's Daughter" apron on my website www.cupcakeprovocateur.com & http://www.myspace.com/cupcakecouturecreations