I happen to be a candle fiend! So I feel I must tell everyone about Dawn's (creator of www,lawebs.com) Candle business. She has candles in almost every scent that you can imagine from aromatherapy, baked goods and even candles for men as well as yummy soaps in some very unique scents like "Sweet Orange & Chili Pepper Bella Bar"! Candles make great gifts......and The holidays are right around the corner!!!!
Best part are all the candles are organic!!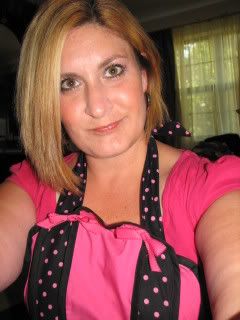 A lovely pic of Dawn wearing one of her Cupcake Provocateur`aprons!

*Tell us more about you and your Candle business?
ok, well my candles are only the best totally organic candles on this earth...lol!
They are made from 100% organic materials
plants, vegetables, soy, bees wax and other natural products. If and when u buy a candle of mine you will see right away that they look completely different from any other candle you've ever seen...the texture is different. It's crystal looking. Really neat I might add.
They are 100% zinc free, lead free, and almost completely soot free. They are made with 100% cotton wicks!
They are cooler burning candles due to the fact that they are organic, so if you accidentally spill some on you or a child comes in contact with the wax...it cools off on contact with the skin. They will NOT be scalded like they would be with an ordinary candle. They clean up with hot soapy water if spills on your carpet or counter or another surface.
These candles are also better for people who have allergies.
Now I know I mentioned earlier that my candles were soot free. This means no soot on your candle rims, walls, ceiling, counters, furniture!! Promise!!
They come in over 100 awesome triple scented SCENTS. They are true to their scent all the way down to the last drop. They are even burning down to the last drop also.
One thing I must tell you about my candles is....THEY DO NOT HAVE ESSENTIAL OILS IN THEM!! Why u ask??? Essential oils is what makes the soot...so therefore, we did not put essential oils in our candles. Essential oils are fabulous for allot of things...but not for candles!!!!Our candles smell just as good though!!!
I also very much enjoy making gift baskets of all kinds !! All you have to do is tell me what ya want and I can make it!!
Give me a price range and I can make it for u and ship it!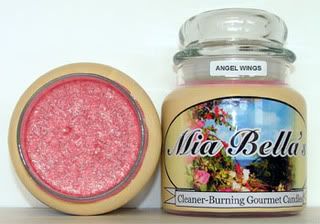 Angel Wings 16oz Jar
A unique aroma of cherry vanilla and one of their most popular fragrances
*How did you get started?
I happened upon an add one day when I was sending an
greeting to one of my buds for a birthday and I love candles and bath and body products so I was hooked ever since because it cost soo little to get started...less than $60.00!!!
*What types of candles do you sell?
Organic

*What are some of your most popular candles?
Butter Cream Frosting
Coconut Mango
Patchouli Spice
Slate and Stone
Sandalwood
Fresh Laundry
Fresh Linen
Coconut Lime
Snow Place Like Home
Bayberry
Sweet orange and Chili Pepper
Chili Vanilla
Orange and Cloves
Mulberry Spice
Strawberry Kiwi
Pumpkin Cheesecake
Sea Breeze
Norwegian Wood
Rain
White Chocolate and Coffee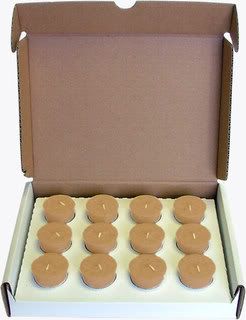 Apple Berry Cobbler Votives
In a delightful twist on a homey favorite, this cobbler with a filling of tart apples, strawberries and dried cranberries is topped with hints of spice!
*What are some useful things candles can be used for.....I'm sure this will be an interesting answer :)
Weddings, baby showers, decorations, centerpieces, aromatherapy,gifts, novelty candles, mediation, Holidays, and best of all ROMANCE!!!

*What are the themes that are offered for a candle party?
OMG, I can do all sorts of themes, but some of the more basic ones are...
Fountain Fondue Party,
Asian Party,
Wine and Cheese Party,
Casino Party, Costume Party..such as Halloween or Carnival parties

*What is involved in a candle party hosted by you?
Most all you have to do is figure out your theme...get the decorations and just a few finger foods that are in context with the theme! Most of all don't go all out of the way to do this!! I want the hostess to be comfortable and not feel as if she has to spend a ton of money to host a party. It's all about the fun!! Not the Moolah!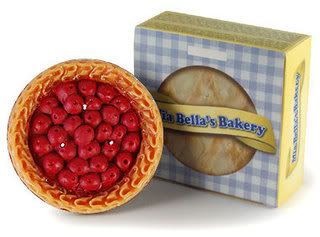 Mia Bella's Bakery - Cherry Pie
This three wick pie candle will remind you of the times you helped grandma in the kitchen. Highly scented cherry.

*Where can your candles be purchased?
Http://www. SumptuousScents. biz
Http:// www. Homeparty-and-Candlenation. com
*Can anyone start their own candle business?
Most definitely, if you go to the join button on my sites you can join right then and there and I can coach you throughout the process!! It is wonderful and tons of fun and very rewarding!!
*I read something very interesting on www. homeparty-and-candlenation. com that Candle use has increased since 9/11, what do you think it has increased?
I think it is due to the fact that a lot of people like myself keep a candle always burning for their loved one who has died or who may be serving in the armed forces at this very moment. I have 3 brothers who are in the service and 2 of them went to Iraq twice and I keep a candle burning for them the whole time they are there to signify that I REMEMBER them and the love they have for us and our country!!!

*Tell us about Candle Fundraising?
candle fundraising is one of my favorites...I actually have quite a few of those.
If you want to make allot of money for yourself though u must do it for a nonprofit organization!
I on the other hand enjoy just doing them for people who need an extra hand with bills and whatnot. There is a fellow New Iberia who lives not far from me who has cancer ..he is 35 and I had a fundraiser for him not long ago and raised about $2000 for him and his family. Now that is me just going out to some lil stores and selling candles in front of them! If there is a will there is a way!!
*So Dawn....one of my "Burning" questions ....(pause for laughter)....is how do you juggle being a wife, mom, nurse run an amazing website (www.lawebsofhope.com),have your own Candle business and find the time to keep your sanity?
YIKES!!!! Did I say I was sane??? I don't recall ever saying that!!!HAHAHA
It is very hard at times and sometimes it is a breeze!!
I have also acquired my brother's two girls since their mother's death in July this year. This is another story and another website....
http://www. angelicsmiles. webs. com
Sweet Orange & Chili Pepper Bella Bar
The most incredible sweet orange & chili pepper cleansing bar you'll ever experience! This large 5oz body bar can be used to shave and shampoo as well as cleanse the body! Won't soften & dissolve like other soaps and will last 1 person 4-6 weeks!

*A question for all my cupcake lovers......what is your favorite type of cupcake ;)?
well I would usually choose yellow cake that is very moist and chocolate icing!!! yummm!!!

*Thank for taking the time to answer some of my questions, is there anything else you would like to add?
Thank you all for taking the time to listen and don't forget I have more than just candles on my site, bath and body products too!!!
Love to all!


Dawn
Thank you again for being a lovely person to interview and telling us about your yummy candles!........ I think the "Sweet Orange & Chili Pepper Bella Bar" has inspired me to come up with a new cupcake flavor, lol!