Jewelry That Will Make Your Mouth Water!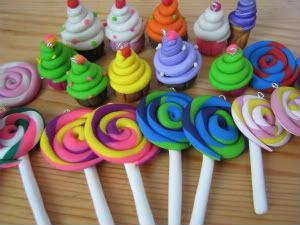 Photo by Dayna from All Things Sweet Jewelry
photo features in the October issue of Ace magazine (www.acemagazine.ws)
Special thanks to writer Lizzy D. Vine
All Things Sweet Jewelry creates by hand some very tasty looking jewelry, including cupcakes, lollipops, fruit and my favorite little robots! Dayna makes custom orders as well, you choose whatever flavor you like....well color that is and she will make it! They look so good you just might eat them!
I am very fortunate to be best friends with a very talented and creative gal! Dayna not only makes sweet designs but is a sweetie herself! She loves doing charity work for the NY Baldwin Lions, helping to raise money for people with Diabetes who are losing there eyesight. Whats not to love!
Photo by Dayna from All Things Sweet Jewelry

*Tell us a little about yourself, your jewelry and your business?
My name is Dayna, I enjoy photography as well as making my sweet little creations! I work in a bank full time, and I am just a happy, outgoing, funperson!
*How did you discover your talent of jewelry design?
I made a few things for myself, and everyone complimented them, some people
even wanted me to start making replicas for them to purchase. So I guess it
took off from there.
*What are the materials used for your tasty looking creations?
Polymer Clay, that's about it, besides some assorted silver findings.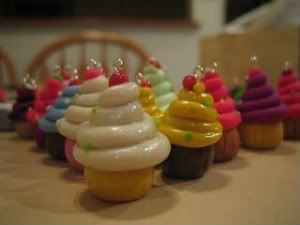 Photo by Dayna from All Things Sweet Jewelry
*What was your inspiration to start All Things Sweet?
The inspiration came from all my family and friends who showed interest in
helping and supporting me to do something I truly enjoy!


*Where can your lovely jewelry be purchased?
It can be purchased on my MySpace page:
(http://www.myspace.com/allthingssweet1) , or through my email at
(mailto:Pixidustinuri@aol.com)
*Do you make custom and special request designs?
Yes! Of course!! You dream it up and I will do my best to create it! Check
out my custom order folder on my MySpace page!!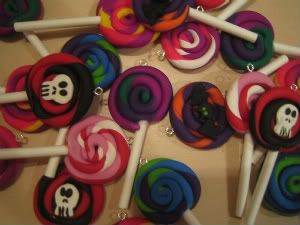 Photo by Dayna from All Things Sweet Jewelry
*What type of designs do you make and what are your most popular?
I make All Things Sweet!! hehehe I make cupcakes, lollipops, ice cream cones, ice cream sundaes, bananas, cherries, donuts, pretty much anything SWEET you can think of!! And some cute little robots too!
*What is your greatest inspiration when designing your jewels?
FOOD!! I love food!! All types! Especially SWEETS!! And since I cant really
eat too much of them all the time, I make them into necklaces, key chains and
cell phone charms so I can carry them around with me all the time and drool
over them at work! hehehe
*What is your life?s ambition?
To do my best at succeeding and making all the dreams I have for myself as
well as my family and friends come true!

*Where do you see yourself in 5 years?
Hopefully a successful banker, maybe a bank manager. And doing what I love
in my extra time! Photography and making sweet little treats for all my
wonderful fans! And of course married with a kid or two lolol
*Do you have any current projects you are working on at the moment?
Not at the moment but I just finished up a big one. The Baldwin Lions Club
just had their First Annual Just for Fun Dog Show, and I made little dog
Charms for every dog that participated in the event! They were a big hit!! And
they were so cute!!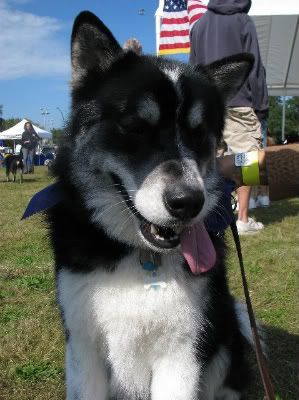 Photo by Dayna from All Things Sweet Jewelry

*What is one thing that not many people know about you that you would like to share?
I am a member of the Baldwin Lions and we work to raise money for people
with Diabetes as well as people who have trouble with their eye sight. We raise
money, as well as donate eye glasses to other countries. We also visit the
local hospitals around the holidays and give all the patients hand made cards
that are made by children in the area. It is wonderful and so rewarding to
be part of such a wonderful club!

*Three words that best describe yourself?
Short, Sweet and Simple

*A question for all my cupcake lovers......what is your favorite type of cupcake ;)?
Red Velvet of course! To eat and to bake of course!!!

*Thank you so much for taking the time to interview with me, is there
anything else you would like to share?
Thank you so much for interviewing me! You are one of my best friends and I love you! And I am so happy you are helping me get my jewelry out there!! And if anyone is interested in ordering feel free to E-Mail me, or stop by my MySpace page!! xoxoxo
Thank you Dayna for being so sweet and interview with me and sharing about your wonderful jewelry and I love you too <3


Where to find more of All Things Sweet Jewelry:
www.myspace.com/allthingssweet1
Pixidustinuri@aol.com
www.cupcakeprovocateur.com/category_3/All-Things-Sweet-Jewelry.htm
Special thanks to:
For more information about the NY Lions Club please contact:
Janice Preisz
516-608-1553
JanPreisz@aol.com