Eva from Little Lily Designs is one talented chick! She makes the most fabulous bows and hair accessories for every occasion you can think of!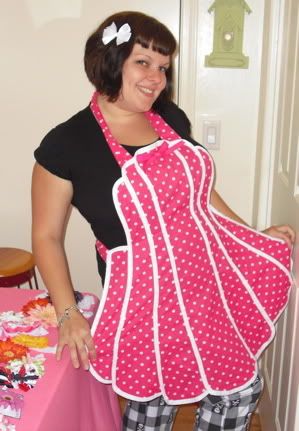 Eva of Little Lily Designs modeling her bow and the CP Cindy apron in "To Cute to Cook"
Her bows have quite the following and been featured on pin-up model Brenda Lee for a recent Cupcake Provocateur` photo shoot among countless other pin-up models such as Bernie Dexter and Dayna Delux. Her bows are available in shops around the world from the Good old USA to our friends in Switzerland! Eva is a self made entrepreneur and has created some of the best hair accessories out there! Her designs truly stand on their own. Eva is a very ambitious DIY gal, and being super sweet and easy to work with doesn't hurt either! And she was sweet enough to model one of my aprons in the above pic :)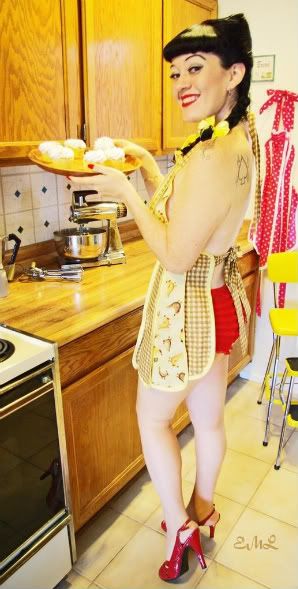 Model Brenda Lee wearing Little Lily yellow bow and a CP Cindy Apron in "Farmer's Daughter"
Photo EML Photos

*How did you discover your talent of making such unique hair accessories?
When I was pregnant with my daughter who is now almost 3 I saw all of
these cute bows for little ones and fell in love. I had to start making
them.A friend of mine saw them and decided she needed them as well. It just escalated from there.

Model Bernie Dexter wearing a Little Lily plum satin bow
Photos by Levi Dexter

*What was your inspiration to create Little Lily Designs?
Truly my love for bows! Everyone needs one in their hair.

*What is your life's ambition for yourself and Little Lily Designs?
Right now I am where I want to be. Of course there is always room for
growth but, I am proud of what this little business has become.
*Do you plan on launching any other creations aside from your amazing hair accessories?
Right now I really am focusing on my bows! I do plan on
possibly coming out with coordinating bows for some of my shops! They
will be a little different than my normal bows. Be on the look out!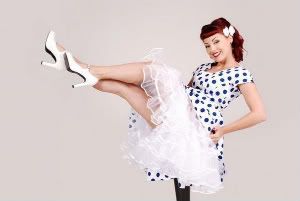 Model Dayna Delux wearing A white Little Lily bow
Photo by Bettie Page Clothing

*Do you have any current projects you are working on at the moment?
Actually, I am getting ready to have a booth at the car show at Viva
Las Vegas 2009 so all of my focus has been on that and my current orders.
*What do you consider to be your greatest accomplishment?
Aside from my children and great marriage honestly this business. I work very hard at it and take great pride in my work!!
*What is one thing that not many people know about you that you would like to share?
I am a photographer on the side. I have been taking pictures since
I was very young and love it! I finally was able to afford a professional
camera this past year and have been taking photos of models and doing
shoots for other companies and it has been a blast! You can see my work at www.emlphotos.com.
Model Brenda Lee wearing Little Lily yellow bow and a CP Cindy Apron in "Farmer's Daughter"
Photo EML Photos
*Three words that best describe yourself?
Ambitious, Creative,Outgoing
*What advice do you have for DIY gals, that want to start their own
business?
My best advice is to get your name out to as many people as
possible! Spread the word let people know your product is awesome and
they need it!

*A question for all my cupcake lovers......what is your favorite type of cupcake? ;)
Oh man I keep thinking about lemon cupcakes with cream
cheese frosting yummy!
*Thank you so much for taking the time to interview with me, is there anything else you would like to share?
I just want to say Thank You CP, I love your aprons they are so adorable! Also, a HUGE Thank You to everyone who has bought one of my bows and all of the people who have helped me get where I am. I would also like to send a special thank you to all of the gorgeous models who have sent me beautiful pictures of them wearing my bows.
-- Eva

Thank you Eva for interviewing with me and being such a great person to work with <3

Where to find more of Little Lily Designs:
www.littlelilydesigns.net
myspace.com/littlelilydesigns

Special thanks to:
www.EMLphotos.com
www.littlelilydesigns.net
www.berniedexter.com and Levi Dexter Photos
www.daynadelux.com
www.bettiepageclothing.com
You can also check out more pics from EML Photos on my website: www.cupcakeprovocateur.com & http://www.myspace.com/cupcakecouturecreations