Superwoman has nothing on piPer rUbie!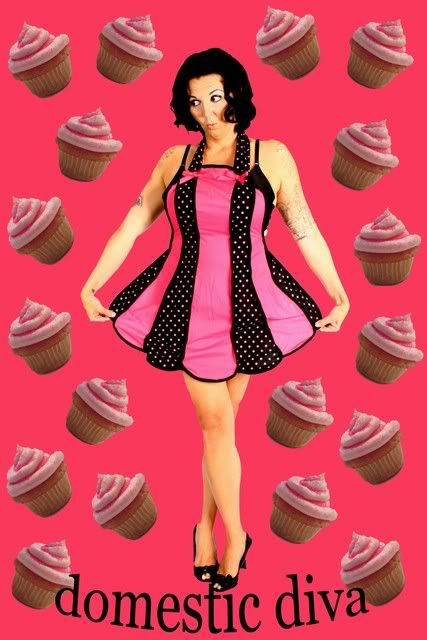 piPer is modeling the Cindy Apron in "Retro-Fit"
All Photography by Ambitious Misfit (www.ambitiousmisfit.com)
piPer is not just another pretty face, she works hard and is passionate about her family and career...being a beautiful pin-up is just the icing on the cake!
She is a loving wife and mom that supports the fight against autism, PETA and is currently studying to be a Special Education Teacher and the list goes on and on!
_________________________________________________________________________________________
*Tell us a little about yourself?
I am a mother of three beautiful yet crazy children; Devon 15, Danika 11, and Cameron 7. I have been married for 11 years and still get butterflies when I see my husband walk into the room. I am a vegetarian whom loves animals and I am actively involved with PETA. I am currently in college pursuing a degree in special education and I have worked as a resource specialist for the Corona Norco school district for three years. I am also very into music and love going to shows, music has always played an important roll in my life and recently started pursuing my childhood dream of being a pin up model.
*How did you discover the world of pinup modeling?
I have always been a fan of classic pinups, Marilyn Monroe, Yvonne DiCarlo their grace and classic beauty has always caught my attention and fascinated me as a teenager. last year I finally decided that I would look into the pin up modeling world and did a photo shoot (which wasn't very lovely) but feel in love with being in front of the camera. I entered the Kitten Koffin Zombies pin up calendar contest and somehow won the title of Miss September 2009. after that win I entered other smaller contests just for fun and started modeling for companies such as Vintage Vixxen by Miss Vicky M.

*Does your pinup persona carry into your everyday life?
I feel like it does to some extent, I do dress pin up in vintage to work on most days. I love doing my hair and makeup in vintage styles. but I also can go out on a limb and dress like a punk rock girl. piPer ruBie is kind of like an alter ego at times, i guess.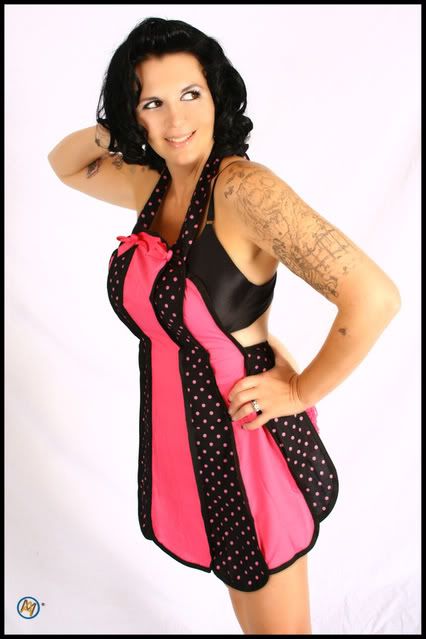 *What is your favorite style to model?
I will try it all - he he - my favorite are pinup and punk/alternative styles but I am open to try almost anything once.
*What is your greatest inspiration?
When it comes to modeling Marilyn Monroe's and Yvonne DiCarlo's lives have fascinated since I was a child and they are my biggest inspiration.

When it comes to life my son Cameron inspires me. He suffers from autism and his daily struggle to continue trying things that scare and frustrate him inspires me to continue pursuing my dreams.

*What is your life's ambition?
I have always wanted to help children with disabilities. I am pursuing this dream currently and have worked and volunteered in special ed since high school.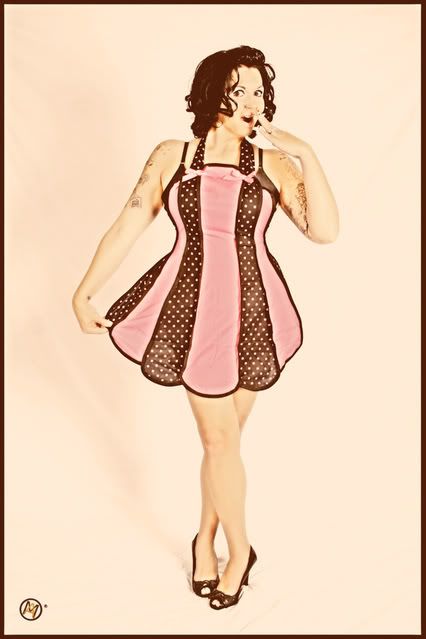 *Do you have any current projects you are working on at the moment?
I have been doing some modeling for Vintage Vixxen, on the modeling front. I have also recently done some shoots for Zombie Girl hair accessories. I am very excited to be modeling your aprons - I love them, they are great!! I am also involved in the Dead Man's Drive Pinup contest in October.



Be sure to vote for piPer the whole month of October http://www.myspace.com/deadmansdrivecarshow



I also love art, I paint, and create journals out of recycled materials. I love making things for my friends and am always trying to come up with something new and different.
*What is one thing that not many people know about you that you would like to share?
I am a gestational surrogate mother and have given birth to two beautiful children to help create two different families.

*Three words that best describe yourself?
Spontaneous, Trustworthy, and Caring

*A question for all my cupcake lovers......what is your favorite type of cupcake?
I LOVE cupcakes - it is hard to choose just one - I LOVE them all!!!
*Thank you so much for taking the time to interview with me, is there anything else you would like to share?
I would like to thank you for interviewing me!!

xOx piPer rUbie
Thank you piPer for being so sweet and for modeling my apron :)
Where to find more of piPer rUbie:
http://www.myspace.com/dawnhickam
You can also check out more pics of piPer and purchase the "Retro-Fit" apron on my website www.cupcakeprovocateur.com & http://www.myspace.com/cupcakecouturecreations