It's a Very Etsy World!

http://www.etsy.com/shop.php?user_id=5394563
I recently have been fortunate to get to know a lovely girl named Angie! She is possibly the sweetest girl I have ever gotten a chance to meet.....and even more possibly the biggest supporter of CP aprons on the planet! Angie was one of the first CP Gal's and was even blogged about it too! Not only is she nice, she is super talented as well! Angie and a few of her friends hand make some very unique designs, from Angie's hand painted Trinket Boxes and adorable Hair Accessories, Megan's Zine featuring her interpretations and snapshots of her world and Chris's amazing naturalistic Photographic Prints of the time and space that we call "Planet Earth"!
Please check out their Etsy store and show your support!
http://www.etsy.com/shop.php?user_id=5394563
Please also check out Angie's Covina CA area website (www.freecakesforkidscovina.com) a wonderful website that helps provide underprivileged kids with cake on their Birthday. This is a national project so if you or someone you know is interested please feel free to sign up!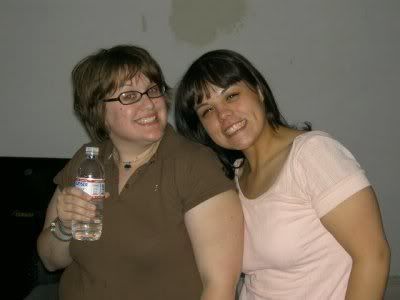 Megan and Angie
*I love your Etsy store name of "mediocXcore", what was the meaning and conception behind the name?
medioXcore was coined after seeing a lot of genres of music and lifestyles get the "Xcore" treatment. There was the original hardXcore, emoXcore, even people using the term "appleXcore", plus a ton of others. I guess people thought words looked pretty cool that way. Well I thought that being mediocre was pretty hardcore, thus medioXcore was born.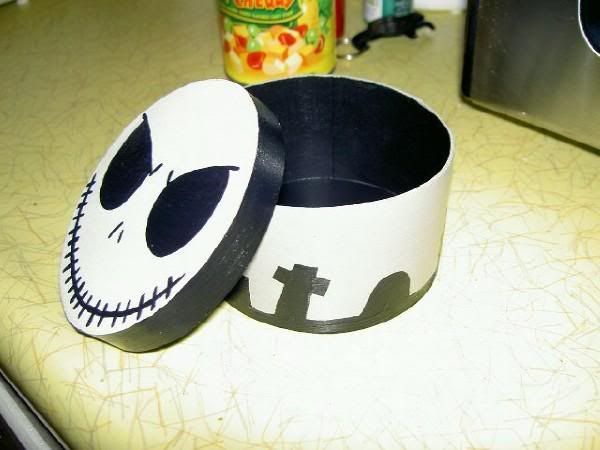 Trinket Box by Angie

*Question for Angie, What is your inspiration behind your lovely creations, such as your hand painted Trinket boxes and shabby chic crocheted hair accessories?
I'm a total sucker for hair accessories. Everyday I've got a bow clip or headband in my hair, so I figured why not make my own? The ideas for the trinket boxes mostly come from stuff I like. I love gnomes so I thought a gnome box would be cute. I also get ideas from different stationery. I just love cutesy things.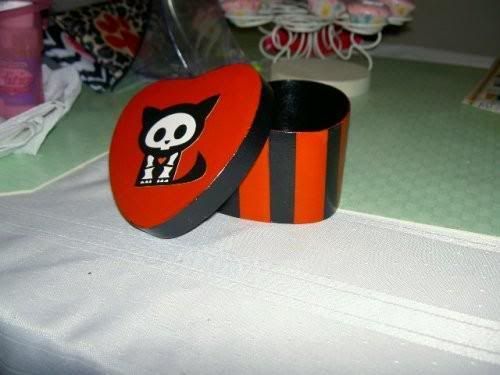 Trinket Box by Angie
*Question for Megan, What is your inspiration behind the name, poetry and artwork of your Viva Invierno Zine?
My zine is called Viva Invierno, which I chose because winter is my favorite season. I get a lot done in winter. My goal with my writing is to present a snapshot in words. I want to create a scene that will put you in the middle of where I was standing and make you see and feel everything that is going on.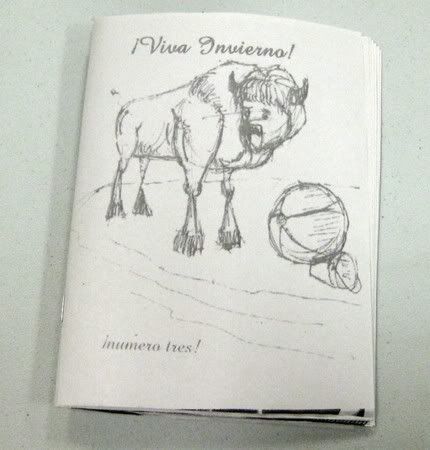 Viva Invierno Zine by Megan
*Question for Chris, What is your inspiration behind your Photographic prints, please expound on your love of making things with light?
Chris loves to photograph nature, especially waterfalls and mountain scenes. He also likes experimenting with night-time photography to make swirls and loops of bright electric light. One of his favorite techniques is using a delayed shutter-release and twirling the camera by the strap in the middle of a fireworks show or carnival and seeing what shows up!
Photographic Print by Chris
*What type of materials are used when making your unique creations?
My favorite material is felt. It's my best friend! haha I use felt and buttons for my pouches. For the trinket boxes I use unfinished wood boxes, stationery, glue and acrylic paint. And for my hair clips I use yarn, buttons and barrettes.
Pouches by Angie
*All three of you make some very unique creations, have any of you studied or are currently studying art?
Angie: Sadly, I have not studied art. I consider myself to have bursts of creativity, but I don't consider myself to be an artist in any sense. It's all in the name of fun for me!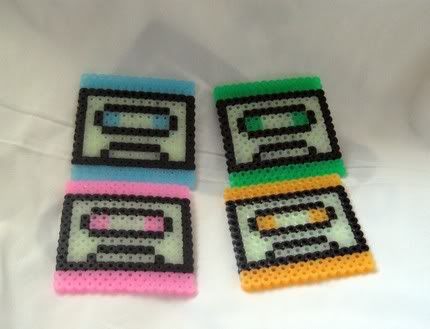 Coasters by Megan
Megan: I've taken art classes, but after the last college art teacher I had said my drawing style looked like that of an insane person, I decided I was done with that stuff. I've taken photography classes, but since I like "toy" cameras, like Holgas, the best, a lot of the proper training goes out the window when you use those. It's more fun to make your own rules and see what you come up.
Tote by Megan
*A very Etsy question....what is your most prized handmade possession?
I'd have to say the red heart pillow my boyfriend made for me for our anniversary. To save money, we decided to give each other something handmade. His grandma is a sewing queen, so she helped him. It's the cutest thing ever.


*What are your goals for the future?
I've been taking cake decorating classes, so I'd like to get more into cake decorating.
I've started a chapter of Free Cakes For Kids (www.freecakesforkidscovina.com) and I'm working hard on spreading the word. Of course, I'll continue my crafting. I just want to make people smile with my creations.

Photographic Print by Chris

*Can your creations be found anywhere else?
So far, they're only available on Etsy.
*What advice can you give to DIY artists that are interested in selling their creations?
Just get out there and do it! I hesitated for a long time with selling my stuff. I didn't think anyone would like it, let alone buy it! But I've received a lot of wonderful and supportive feedback that now I only wish I started sooner!
*A question for all my cupcake lovers......what is your favorite type
of cupcake? ;)
I found a cinnamon toast cupcake recipe a few weeks ago and tried it out. Those were the most delicious cupcakes I've ever had! Super yummy!
*Thank you so much for taking the time to interview with me, is there anything else you would like to share?
I just want to say thank you CP! Your aprons inspire me to bake, bake, bake! You're the best. <3

Thank you Angie, Megan and Chris for sharing your lovely creations with me!