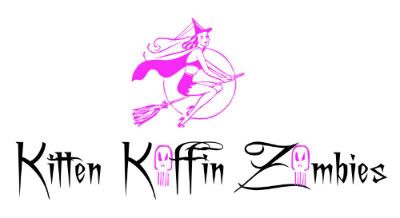 I recently had the pleasure of interviewing Frenchy who is the creator and designer of Kitten Koffin Zombies Pinup Contests which are held monthly through her website www.kittenkoffinzombies.com. KKZ has become quite popular within the Pinup/Rockabilly world and with due cause! Frenchy is an acclaimed graphic artist, designer/creator of the KKZ yearly Calendar and Retro Raven herself. This is a must read for any pinup gal that is interested in the "Hot Pursuit" of retro inspired modeling!
Tell us a little bit about yourself and how Kitten Koffin Zombies came to be?
Well, I'm a graphic designer by day and work on materials like posters, brochures, websites, logos, etc for industries such as builders/real estate, medical, business to businesses, etc. I also spend a lot of time at home doing home improvements, going to car shows, spending time with my husband and hanging out with my 4 crazy cats.
My inspiration behind Kitten Koffin Zombies really started with a senior how project I did for art school about 5 years ago. It could have been whatever you were interested in (that I could spend the whole semester without driving myself crazy.) I picked a subject that I have been enthralled with for many years, the retro pinups of the past. I produced a book called "Making Cheesecake" which I asked my sister-in-law (Sundae St. Laurent) to model for. It touched on the basic steps on how a modern day girl could transform into a retro pinup, I produced and shot all the photos for a mini calendar. After graduation, I got busy with life and the career I went to school for, and my love for pinup art got pushed to the back-burner. Then in October 2006, I felt like I had to do something to bring that creative need that I had in college back into my life. That is when I started Kitten Koffin Zombies. I wanted a release from my everyday job that I could share my fascination with others who enjoyed it as much as I do. I wanted something for others like me would enjoy and participate in. Pinups are just so important to this culture.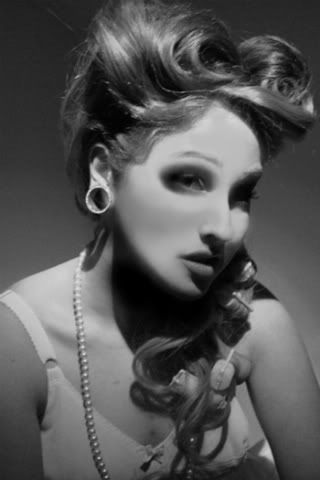 January: Litsy Leopard
photographer: Meglomaniac Photography
I absolutely agree with you Frenchy... How do you think the role of pinup girl has changed from the 40's & 50's till today?
I think the pinup girl roll from yesterday and today hasn't changed. A pinup girl in my mind is a smart, confident, strong, beautiful (both inside and out) and an all around fun girl to be around. Pinup girls are the epitome of beauty. They are sweet, sexy, innocent, and mysterious all at the same time. They possess exotic good looks and shapely hourglass figures with pristine, radiant faces and fabulous hair.
They also do what they want  Its a statement to women that they can be themselves and enjoy it. If you have a love and interest in something, it is important to appreciate its past. By knowing its roots, you can grow and evolve by adding your own twist.
February: Grace Black
photographer: Eyecon Photography
What are the required aspects of becoming a Kitten Koffin Girl?
Well, in terms of photo requirements, we look for the following guidelines but any girl can be a Kitten Koffin Girl as long as they portray confidence in their photos and have a respect and knowledge of the retro pinup culture. We also love girls of all sizes. Our calendar and contests are not about what size or shape you are but how comfortable you feel with yourself and that really shows through in the photos submitted into the contest. You don't need to be a size 0 to be a Kitten Koffin Girl!
1. Photo Quality
* Images need to be focused
* Photo backgrounds- should be cohesive and consistent in the same shot
* Setting- watch for elements not needed in photo (i.e. extension
cords,electronics)
* lighting- use some standard pin up lighting techniques
* Images should be less grainy
* Photos taken should not be unnaturally skewed by camera lenses
2. Picture Elements/composition
3. Props should incorporate elements of the 40¹s-50¹s
4. Hair makeup should be more retro inspired
5. Posing/facial expressions- should mimic the pin ups
of Vargas, etc.
6. Clothing should be retro inspired.
(These suggestions are a standard KKZ list. Please use this purely as a guideline for our website only. KKZ does not judge Photos or photographers, we are simply stating our standards for our calendar so that we deliver the Quality of Service to our patrons. KKZ Staff)
I will need from you the model app (available on the website and my myspace blog), photo permission form (also on the website/myspace blog), copy of your drivers license (you MUST be 18 at time of entering), brief bio and 6 photos max of retro pinup styling. This look is based on the 1940s to 1950s looks of Vargas artwork or style icons like Bettie Page, etc (see above list). You can also see some samples of the past winners in the Past Pinups section of the website to see the "look" and "style" I'm going for in the contest and review the above. Just putting on a corset doesn't cut it. You should have your hair and makeup retro styled as well as your surroundings. I've noticed that professional photos help in the contest but its not a must. If you do what to take your own photos, make sure they "look" professional. Oh yeah, and no t&a photos. Those photos will not be accepted.
March: Julie
Photographer: Terribly Girly
How does the voting system work for a KKZ contest?
The voting system is pretty simple. Basically, a voter needs to create an account in order to vote on the site. Once they create their account, they will receive a confirmation email. They need to click on a link in the confirmation email to confirm their account. Once they do that, they can vote once every 24 hours in our system. Voters cannot vote more then once from the same ip and login and results are counted immediately.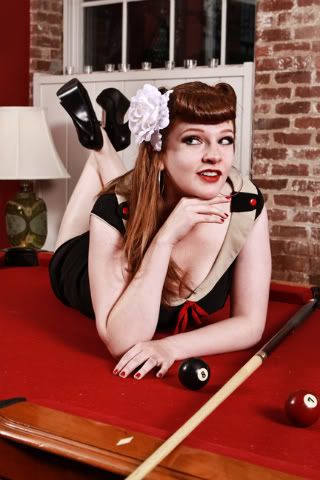 April: Debbie Dagger
Photographer: Lucky Pinup
Do you have any current projects you are working on at the moment?
I am actually working on putting together a car show and fashion show for Forrestal Village in Princeton NJ on October 10th-so make sure you go if your in the area! Also, the calendar is going into production soon so I have to wrap everything up and get it over to the printer. I am also working on updating the website and the myspace page for KKZ for next year's contest submissions. So much to do and so little time!

May: Miss Mia
Photographer: Viva Van Story
What are your future ambitions for yourself and KKZ?
One of these days, we would love to put on pinup contests at events. We would love to get more products on the online store as well as become a bigger online resource for models, photographers and makeup artists in the pinup community. We would also love to start an online e-zine that would include articles on photographers, clothing companies, feature models and makeup tips. One of these days, we'll get there!
June: Honey de Milo
Photographer: Julie K Photo
Well I think you are well on your way...What do you consider to be your greatest accomplishment thus far?
I think the greatest accomplishment so far has been putting on the calendar pinup contests and having the calendar produced to give retro pinup models out there a chance to start somewhere or to further their career by gaining additional exposure in the industry. Its a great way to get your name out there and get noticed with companies as well as network with other photographers and makeup artists. We promote the calendar through many avenues and have gained some great exposure for both KKZ and the models in the calendar and contests.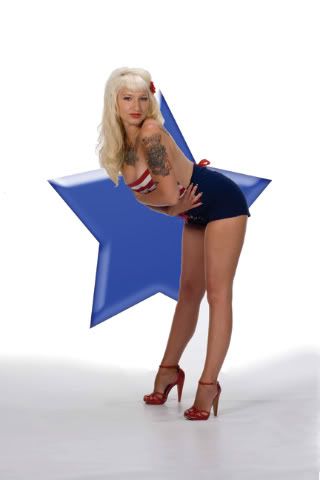 July: Bombshell Sarah
Photographer: Courtney Bell Photography
What advice do you have for all the rockabilly/pin up gals out there that are looking to become professional models?
I've actually been asked this a couple times from models. I would suggest researching your favorite pinup photographers and if you like their work, book a shoot. Some photographers don't do tfp and even though this is a great way to inexpensively build your portfolio, its worth the money to pay! Some photographers will even do tfp if they know their photo of you will get additional exposure if it will be in a magazine, an online zine or if a clothing company will use it.
Also, do as much free shoots for clothing companies as you can while building up your portfolio. Some times, clothing companies will do trade for photos for the items you are modeling. Start small and build from there! Building your name in the industry is key so if you can have a website or myspace page, have one with your modeling portfolio, sizes and resume on there. Also, do link and banner exchanges with companies you like. Doing trade like this will draw more people to you. Get out there, go to events and enter pinup contests.
August: Kari Lu
Photographer: Bombshell Betty Dance/Pinup
I see that you have a passion for helping our troops....Tell us a little about how KKZ has been helping and how others can get involved?
Yes, we have been sending calendars every year to troops overseas and we really enjoy getting letters from troops saying how much they appreciate it and how it makes their time there seem less intense. There are a lot of pinup companies that support troops so try to get involved no matter what! You can send care packages.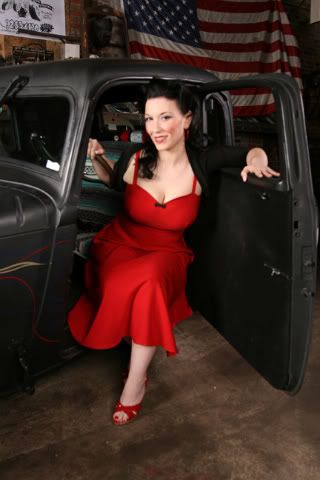 September: Jenny Starr
Photographer: Varga Photography
Three words that best describe KKZ?
Sugary, sweet, and delicious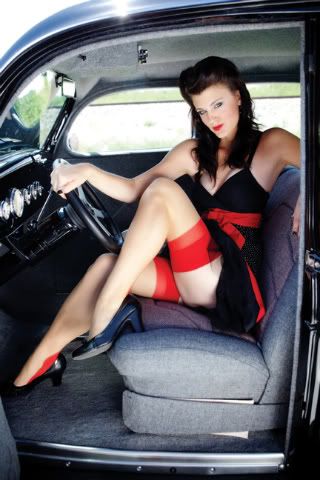 October: Miss Brittany
Photographer: Candy Apple Photography
What is one thing that not many people know about you that you would like to share?
I actually have a passion for baking cupcakes!
November: Miss Vicky M
Photographer: Ambitious Misfit Photography
Well that was a fabulous answer, which leads me to my next and very important question for all my cupcake lovers......what is your favorite type of cupcake?
I enjoy any type of cupcakes (you can't beat little cakes that fit nicely in the palm of your hand and you can¹t eat just one!) but my favorite is red velvet with cream cheese icing. Yum yum!

December: Miss Nicole
Photographer: Terribly Girly
Thank you so much for taking the time to interview with me, is there anything else you would like to share?
Just to make sure you keep an eye out for the 2010 Kitten Koffin Girl Calendar!
Thanks again Frenchy, you are a true professional!

Be sure to keep an eye out for the 2010 Kitten Koffin Zombie Calendar coming out out very soon! When you get you calendar be sure to look for our ad featuring the Sexy Asia DeVinyl!
Model: Asia DeVinyl
Photographer: www.emlphotos.com
XOXO,
Cynthia L.
*If you are mentioned in this article and do not see your link, please email me at cynthia@cupcakeprovocateur.com*