I had the pleasure of interviewing one of my favorite Pin-up photographers. Missy is a one of a kind photographer and has an intense passion for her art. Missy is well on her way to stardom, I look forward to what she has up her sleeve next! Thanks Missy...I look forward to working with you again :)

Miss Missy Photography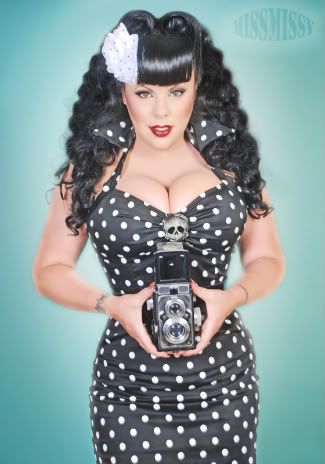 Model: Asia DeVinyl

Tell us a little bit about yourself and how Missy Miss Photography came to be?
I have been a fan of pin up girls for a long time! I've loved Marilyn Monroe since I was 13 (I'm 30 now). When I started playing on the Internet is when I started to see all the pin up girls of today, I wanted to be one of them, I wanted to take their pictures..I had great ideas for photo shoots..I really wanted to be apart of it because I felt like It fit who I was..I grew up looking at my mothers old photographs and watching the movies from the 80's that were supposed to take place in the 50's, how could you not fall in love with that time period..The women were so classy, the clothing was amazing, the cars were unbelievable..It just seemed to be a very magical time..I wish I had been a teenager back then! Where I fit in best in the scene today, was behind the camera, so I posted on myspace that I was looking for 15 girls to shoot for free, when I got the feedback is when I invested in my *nice* camera and started building props, it was then I had to start charging.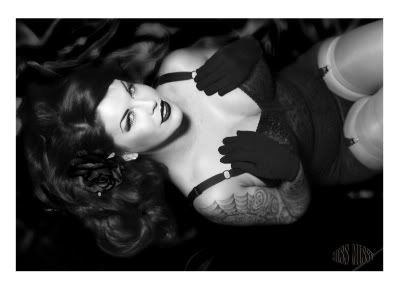 Model: Jessica D.

What is the atmosphere like on a typical Missy Miss photo shoot ?
I
know a lot of girls come over and are scared, they've never done anything like this before...I've been in front of the camera too, and I know how weird it can be...I do a lot of my own hair and makeup, so the time while I'm doing it I get to know these girls..They get to know me..I assure them that everything will be okay..I wouldn't do them wrong, not everything ends up on the net and if they want to be, but want to see the photos before posted, I will run it past them. They warm up to me a little and when we're done with hair and makeup and it's time to shoot, I will show them poses and things to do...Where to look..What looks best..I will praise them when they're doing it right and then after that it's easy..The girl is more confident and the rest of the shoot goes great...I often make friends with a lot of these girls.

If they've been modeling for a while, I used to get a bit nervous, but I have worked with so many people now it's a lot easier..I'm a fan of some of these girls, so it's exciting!:)

As far as what's going on while I shoot..I shoot out of my home..The master bedroom is my studio..It's not small and it's not big, it's good enough for right now..I shut the door and kick the animals out, unless someone wants to shoot with one of them.;) I have a closet filled with props, almost every color seamless paper backdrop, tons of MAC makeup and I am building a vintage wardrobe right now!

Model: Bondi Holly
How can a current or aspiring pin up model schedule a photo shoot with you?
I like to do the whole modelmayhem and myspace thing..Myspace has made it very easy for me..I like to check out people before I let them come on over..I'd just say to send me a message..I message everyone back.:)
Do you have any current projects you are working on at the moment?
I've got many, but they're secrets..;-) I've got to come up with some themes for some bigger names in the pin up world..It's a big deal to me..This is my life, my passion..I like to make everyone's shoot a bit different, but I am planning on working with some models that I've been a fan of for quite some time.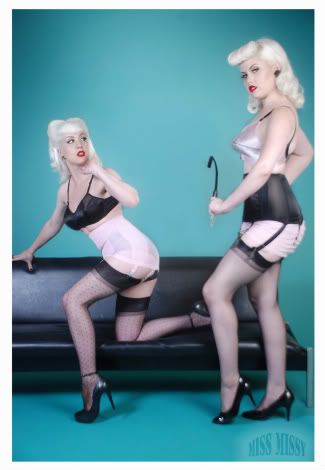 Models: Lindy Sue & Doris MayDay

What are your future ambitions for yourself and Missy Miss Photography?
I want to move to LA, I took a trip there this summer and it was amazing..I didn't know if I would like it or not, but I had the best time in my life..LA is so inspiring, I need that.

I have so many things I want to do with this..I know calendars will be made..I want to publish a book of my work when I feel my port is what it should be..I'd like to have "Miss Missy" merch, some has already been made..I have teamed up with Racy La'Rue Apparel & some jewelry with the models has been made..Much more to come though!!!
What do you consider to be your greatest accomplishment thus far?
Making people happy..Giving women their self esteem back..I had a woman call me up crying one morning..She told me she had not felt that pretty since before she had her son a few years ago and how in love she was with her photos..It made me cry..I don't think it can get much better than that.

Getting published is very nice too..It's always nice to show your mother what you've done and sit back and look @ all the hard work and how it's paid off.
Model: Jolee Blon

Your photography is some of the best I've seen around and your props and sets always seem to capture the essence of the 1940's & 50's....what would you say inspires a shoot from the conception to the last shoot?
Thank you! That means so much to me..Some girls come up with their own ideas, some I've had sitting in my head..I am always thinking..I can go somewhere and see a box and come up with a whole shoot..I get inspired at weird times, like when it's time to sleep...LA really inspired me though..Moves, clothing..Cars..I can look @ an object and base a whole shoot around it...I think my editing is what really gives it that vintage feel.

What advice do you have for all the rockabilly/pin up gals out there that are looking to become professional models?
NETWORK! Join every site! Learn how to do your hair and makeup, go to events, dress the part, pay photographers until you get offers from them to do it for free...I paid my dues..I think a lot of girls have too much pride to pay, but I have shot some girls that took off after..If you can't afford it, have a friend take your photos..Post all the time..Get and keep peoples attention..Stay humble!!
Model: Kim Falcon

What has been one of your most memorable photo Shoots?
T
he crazy ones..Like I said, I become friends some of these girls..Sometimes we'll walk around and do location shoots..Hollywood was crazy, fun and amazing..I know I had some girls cracking up and they did the same for me..Laughing so hard it was hard
to even get a shot...I've had so many memorable shoots, it's hard to pick one!! I love what I do!
What is one thing that not many people know about you that you would like to share?
Before I started this I was very shy..Had social anxiety problems, but this has really brought me out of my shell.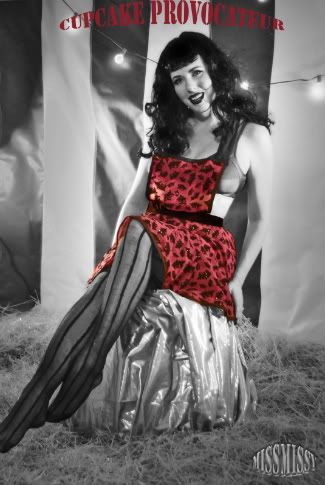 Model: Lorelei Lee for Cupcake Provocateur
Three words that best describe your photography style?


fun, creative and retro..I don't know why that question was so hard..ha.





A question for all my cupcake lovers......what is your favorite type of cupcake?
Chocolate!!!

I love chocolate, but it hates me..ha.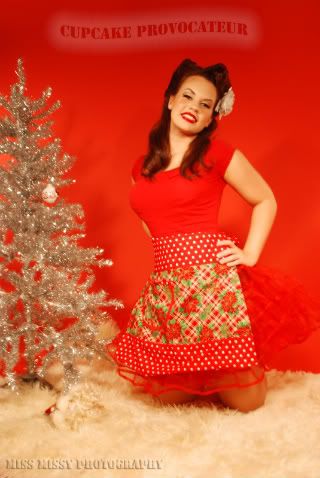 Model: Kreepy Kay for Cupcake Provocateur




Thank you so much for taking the time to interview with me, is there anything else you would like to share?
Just that I can't imagine my life without this..It's become my everything..I can't imagine spending the rest of my life doing anything else..It's been great and I'd like to thank everyone who's supported & believed in me....It hasn't been an easy ride so far, but I won't give up and I plan on getting better..There is ALWAYS room for improvement!

XOXOXX

Missy

P.S. Support your local artists!!!





Special Thanks also to:



*My stunning makeup artist/ muse Deja

*One of my favorite pin ups of today, Miss Doris Mayday.

*Asia Devinyl was one of the models I was a fan of before I was a photographer!

*Lorelei Lee, this photo really was the start of both of us..We got the attention of well respected photographer and models.

*Jolee Blon, her photo set was taken @ the motel 6 in Hollywood..lol..We had a blast..I don't know if she was quite sure her photos were going to come out alright, but we also got great feedback!

*Also a photo shoot that took place in the motel 6..Feedback was amazing..If you and you're model are on the same level you can shoot anywhere and have great results. :)

*Courtney Crave, I was super excited to shoot her..I am pretty sure she was my first Dallas girl that actually had some modeling experience, she blew me away that day and we've been shooting since.

I love all my models and could write something wonderful about them all, but one day I will write a book. ;)

Thank you for reading!!

Missy


Where to find Missy:

myspace
http://www.myspace.com/misssmisssyphotography
Twitter
http://twitter.com/misssmissy
Facebook
http://www.facebook.com/group.php?gid=1 … amp;ref=ts
pinuplifestyle
http://www.pinuplifestyle.com/profile/M … hotography