We are happy to be featured in this Months Kitchen Issue of Pinup Perfection Magazine also featuring Jenny Cross on the cover, of The Food Network's America's Worst Cooks series fame.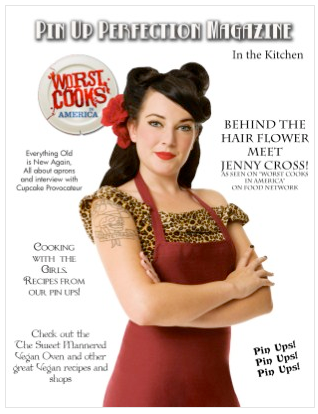 A special thanks to our model Ludella Hahn for the great interview, below is a sneak peek of the article. I was asked to contribute a recipe and I thought my Mother's Banana Bread Recipe would be a perfect choice.... Bon Appetite!

To place an order For even more recipes and articles from this Months Pinup Perfection Magazine click here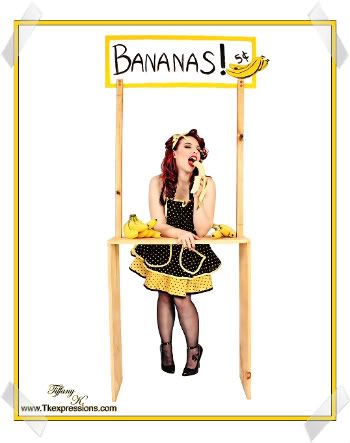 Model: Ludella Hahn - Photography: Tiffany K.

Mama Cynthia's Banana Bread

Ingredients
* 1/2 cup white sugar
* 1/2 cup packed brown sugar
* 1/2 cup butter at room temperature
* 2 large eggs
* 3 ripe bananas
* 3 tablespoons milk
* 1 teaspoon cinnamon
* 2 cups flour
* 1 teaspoon baking powder
* 1 teaspoon baking soda
* 1 teaspoon salt
* 1 cup finely chopped walnuts (optional)

Directions
Preheat the oven to 350 degrees F. Butter a 9 x 5 x 3 inch loaf pan.
Cream the sugar and butter in a large mixing bowl until light and fluffy.
Add eggs one at a time
In another bowl, mash the bananas with a fork. Mix in the milk. In
another bowl, mix together the flour, baking powder,cinnamon, baking
soda and salt.
Add the banana mixture to the butter and sugar and whip until
combined. Add dry ingredients, mixing till blended.
Pour batter into a greased and floured pan and bake 50 minutes to an
hour. Test to see if bread is done by inserting a tooth pick, if it
comes out clean the bread is done.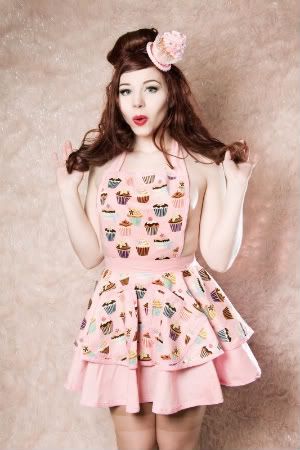 Also Featured in Pinup Perfection our Betty Apron - Cupcake Cutie
Model: Ludella Hahn - Photography: Amalea Photo - Cupcake Hat by: Blu Zombie