Not to long ago, I was watching the Food Network as I always do and I came across a new show called "America's Worst Cooks". Not one for Reality shows even of the Food Variety, something made or should I say "someone" made me stop and take notice. This person was Jenny Cross, she stood out like a diamond in the rough. Amongst the chaos of competing she looked like a pinup queen of an era gone by, however she might knock your lights out if you piss her off, but at least she'll do it in a cocktail dress and a wink in her eye! She was the sole reason I watched the show, every week I would keep my fingers crossed that she would make it to the next round. Though Jenny did not win the competition, she did however win the hearts of many viewers. Jenny has shown that when life hands you lemons, you throw them right back! Jenny is an inspiration to all girls that think their dreams are unattainable, she proves that if your passion is strong enough that nothing can stand in your way.
When Jenny and I got in touch with each other, it was an instant connection of two gals that have a passion for food and all things vintage and allot of humor thrown in for good measure, with that combination how can you go wrong!
It is with great pleasure, that I am announcing Jenny Cross as our official Cupcake Provocateur Spokesmodel! Below are images from our photo shoot with Jenny modeling our aprons and cupcakes, last month at Sweet Mama's Kitchen in Northport, NY (little fact, they have the best stuffed French Toast)! With special thanks to Melanie of
www.licaphoto.com
for the wonderful photos.
So lets get to know Jenny a little better and welcome her the the Cupcake Provocateur family........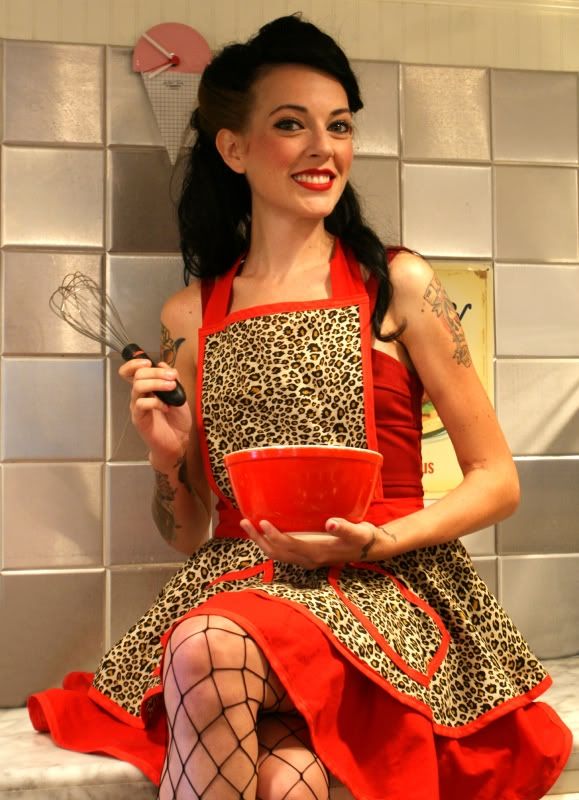 Jenny Modeling The Betty Apron - Leopard Lounge
The last moment I was ever seen on TV, I was sobbing over not winning Food
Network's "Worst Cooks in America. That was me not too long ago, but the sad
pinup you once saw is just a distant memory. When it was announced, I felt
as if my entire world crumbled, that something that I had worked so hard for
was taken from me in a split second. But, something happened when Worst
Cooks aired, that took me completely by surprise. It was no secret that I
came from a troubled past, and even on the show I wasn't in a stable place.
I was expecting viewers to see that and dislike me, but what America saw was
a young girl that was driven to give herself better by chasing her dream. I
had failed to realize that even though I didn't win, I still learned so much
about cooking, and had been given the opportunity of a lifetime. I began to
learn about the restaurant industry hands on by working in various kitchens
then, going into business for myself as a Personal Chef/Caterer. One of the
unique abilities I've learned is to take a meal that would typically be
considered "junk food" and by substituting a few ingredients, I'd serve a
health conscious meal while keeping all the flavor. While I support a
healthy lifestyle, cooking with restrictions..... isn't really my style.
Although I look great in a chef coat, my hair flowers and fishnets were
collecting dust. This is why I am so honored to announce that I, Jenny
Cross, will be Cupcake Provocateurs spokesmodel. Cupcake Provocateur and
myself, are a match made in retro glam heaven! With the adorable aprons,
delicious cupcakes, and an arsonal of housewares that would make any chore
fabulous, I cannot be prouder to represent such a wonderful company. Cynthia
Lagudi, has captured everything I love about the traditional 50's housewife,
and created an ideal way to bring those values back into the everyday lives
of modern women with her Pinup couture. Not only have I personally worn them
for cooking and non cooking purposes...but I find myself truly enjoying the
experience of just wearing the flirty aprons. With the strings tied in the
perfect bow, and a fresh coat of red lipstick, I'm in the kitchen cooking up
my next culinary triumph.I will be featured at many different events serving
up all my favorite comfort food and proving that I'm NOT the worst cook
anymore in Cupcake Provocateur's sassy aprons.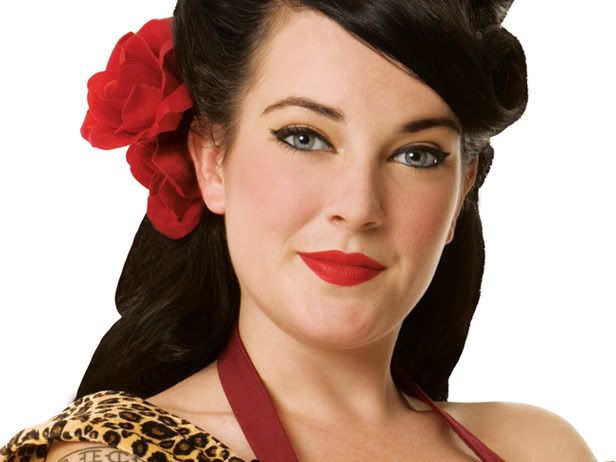 How has life changed since the airing of America?s Worst Cooks?
Since the show, my life has been a quick u turn for the better! I vowed to
myself (even though I didn't win) that I would never carry a tray again, so I
began working as a chef in different restaurants around Philly to learn more
about the culinary industry. Soon I learned that maybe a restaurant chef
wasn't the best option because I really wanted to explore my own talents. I
wanted to see what I can do as well as experience what diners feel when they
taste my cooking. Being that I had so many family,friends, and fans wanting
me to prove that I wasn't a worst cook anymore, I decided to start charging!
Then I went into business working as a personal chef/caterer to not just
only bring some tasty food, but a rockin good time as well! I developed an
eclectic mix of clientele, one being the owner of a prestigious antique shop
in Philadelphia. I absolutely loved working for the family as well as in the
antique shop. I just loved being around so many beautiful pieces of art and
history. With my love of all things vintage and my strong work ethic, the
owner gave me full control over his 2nd store called The Annex. Not only do
I sell antiques, but I sell vintage clothing, jewelry, hats, and furniture,
that I've personally picked out. Even though I manage the store, I still
cook, and soon I will be selling Pirate Jenny junk food out of the store as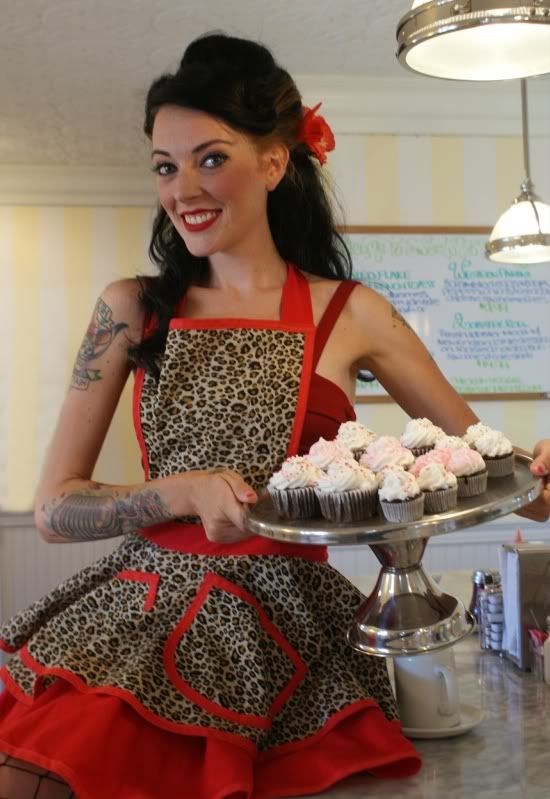 What was the most important thing you learned about yourself during and
That's a GOOD question! Before the show aired, I thought I was going to be
the most HATED cast member. The one that everyone wanted to vote off haha!
Afterwards I saw that I had the most unexpected fans like, a soccer mom and
her teen princess daughter. Now, here I am, tattooed, rockabilly,rebel type
young girl, aka any mother's worst nightmare, and I have the soon to be prom
queen and her mother gushing to me that I'm their favorite person from the
show. It really amazed me the fact that viewers saw past my look, and saw
someone who would do anything to pursue her dreams. I never thought people
saw that in me, nor did I even realize that in myself. I learned that people
DO see that there is allot more to me than the way I look, and I needed to
truly give myself credit for that. Truly learning that looking a certain way
doesn't make you what you are on the inside, but its what you do in this
life and always putting your best foot forward. When I realized that my
image, was just that, I started to feel a lot more confident about myself
and my own talents in the kitchen. If I can rock a pompadour and fishnets
while making a chocolate torte for the social elite of Philadelphia, and
have them praise me for it, then there's nothing stopping me from cooking
for the queen of England! I'm proud of the fact that I am an individual, and
that all types of people praise me for what I can do. I just so happen to do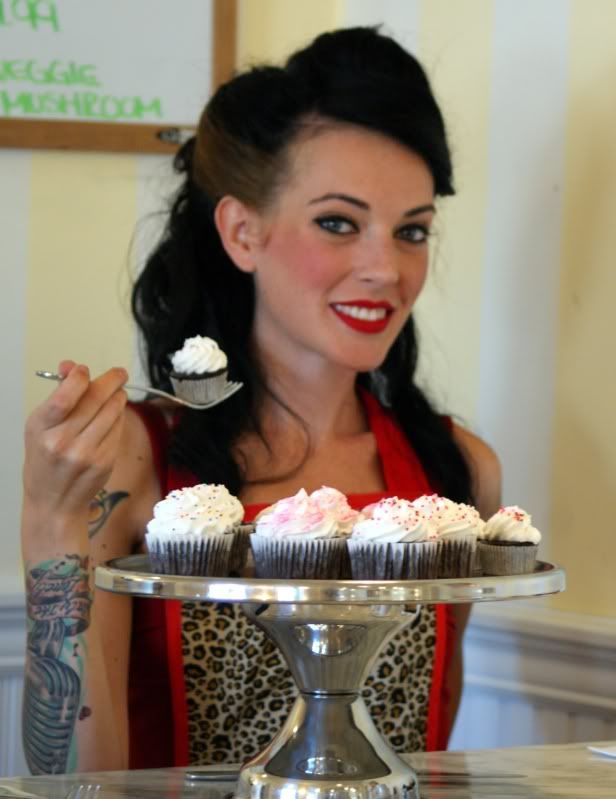 One thing I admire about you the most, is your strength to prevail through
some tough situations, just like a modern day Cinderella.... How do you stay
so strong and what advice can you give to girls and women who are currently
trying to reach their goals?
You pegged me completely on that one! Like Langsthon Hughes once said "Life
ain't been no crystal stair", it has been very much that way for me. I've
had a rough past and it continued to be rocky up until the show aired. I've
always identified myself very much with Cinderella, growing up and
currently. I look at the opportunity that Worst Cooks gave me as almost my
fairy godmother casting a temporary magic spell, and now I had to find a way
to make my dreams come true. I had all the skills I needed, all I needed to
do was realize that my goals were allot closer than I imagined. Now
opportunities like this doesn't happen to everyone, but I stayed true to
myself and what I wanted. The fire I had to win couldn't compare to the
blazing inferno I had to learning everything I could about cooking. The
burning desire to be a the best chef I can be, has kept me strong Believing
in yourself, and always doing your best, is what helped me move away from my
past and on to my future success. I am still working very hard to be the
next Julia Childs, but I don't forget who I am and where I came from. The
name, Pirate Jenny is actually, a song from the Three Penny opera, about a
pirate queen turned Inn slave, that ends up showing her captors what she
REALLY can do after years of neglect. Kind of like a darker Cinderella, kind
of like...me! I'm not what you expect when you think of Cinderella, but more
of a Pirate Jenny! HAHA! Just a little saltier than the blonde haired sugary
No matter what life throws at me, I always keep a smile on my face and try
my hardest, because when everything's said and done, if the worst thing
people can say is "I don't like her hair", then you're doing pretty good!

I heard through the grapevine that you have always had a desire too become a
professional chef, what are your current goals and happenings for the future
Hmmm.... professional sounds a little serious to me and I don't think its
my flavor. I've never wanted to be a master chef, or earn a Michelin Star,
but to truly be an artist with food. The reason I want to be a chef more
than anything is because food is art for all of your senses. Its easy to
remember the last best meal you've ever eaten not only for the taste, but
for the memory it gave you. Same thing goes for a bad meal as well. Good or,
bad, food makes you feel, its one of the strongest senses of memory that we
have. I find that the food I enjoy making the most is homestyle classics
with a modern twist. Taking the junk food and family dinners that we all
loved as children and creating your wildest food fantasy! If you're going to
chow down on junk food, it'd better be worth it! So by taking the best
ingredients to make the most delicious snack food and allowing the diner to
make it EXACTLY what they're craving but only could make in solitude. I want
my food to reflect who I am as a person; unique,bold and a glimpse into a
time once passed. The culmination of everything that I love about cooking
and food is reflected in "Pirate Jenny's Pogey Bait and Home Cookin".
Unusual comfort food that you can customize or have catered to your event. I
plan to have the website with menus to place orders soon, but still a few
more bugs to work out. If you can't wait to try Pirate Jenny's, I will be at
food events handing out samples and featuring the menu along with my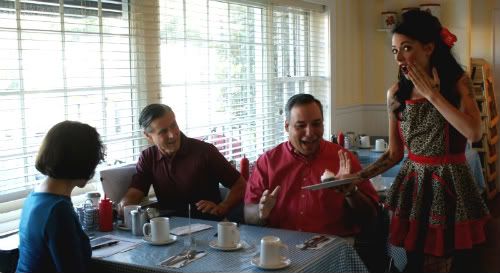 Jenny serving Cupcake Provocateur cupcakes to real customers :)
We all know Jenny Cross is sugar and spice and everything nice but lets dig
deeper....If Jenny Cross was a recipe...what ingredients would be used to
I want to say piss and vinegar but, that's not very nice. I would say
that I'm all the aspects of a deep fried Snickers. I would say I'm
sweet,decadent, and romantic like the chocolate on the outside. But, once
you take a bite you get the salty,hard crunch of the peanuts thats bonded by
the tough chewiness of the caramel but with a soft nougat center. Great by
itself, but being that I have to push everything almost to the point of
ridiculous, it needs to be dunked in a heavy batter and cooked in fat. Kind
of like how I wrap myself in leopard print faux fur with my teased up hair
and looking just trashy enough to be intriguing. I'm like a familiar guilty
pleasure but a guilty pleasure is still a pleasure. Once the batter crisps,
all those ingredients come together in such a spectacular way that you can't
believe you're liking something this bad so much. Such as myself, on sight
you may expect the worst, but give me a chance and you'll end up liking more
Jenny wearing The Artisan Chef Apron - Sugar Skulls
If we were able to read your planner... what is an average day like for
Average day? What?s that? HAHA! Not in my vocabulary!
Who or what inspires you the most?
It may sound harsh but, my biggest inspiration is all the people who said I
would never work in the culinary industry and proving them wrong. Everyone
who underestimates my determination, and tries to bring me down, only
inspires me to try harder. "Live to Fight" is tattooed on my arm for a GOOD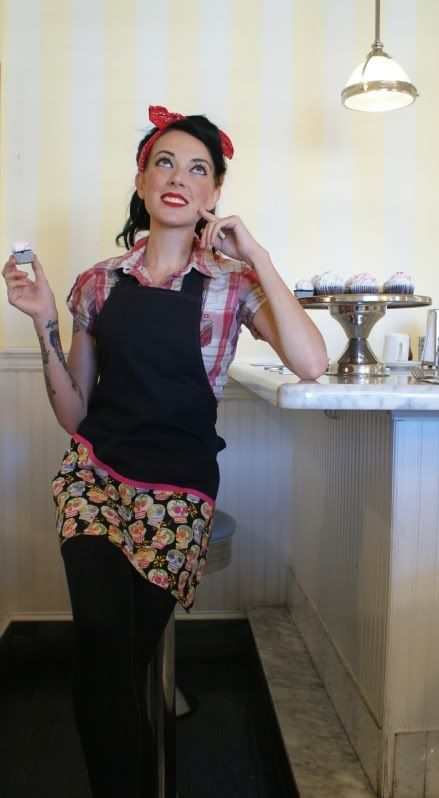 Tell us a little something that people may not know about you?
Something you may not know was that I was a Girl Scout for 10 years! I often
ask myself, "where did it all go wrong?" HAHA!
Thank you for taking the time to Interview with me and becoming the Cupcake
Provocateur Ambassador :)......., any last words?
Like Carey Grant said " I think this is the start of a beautiful
friendship". I can't wait to see what we're going to create together being
it in the form of success,sweets, or smiles! XOXO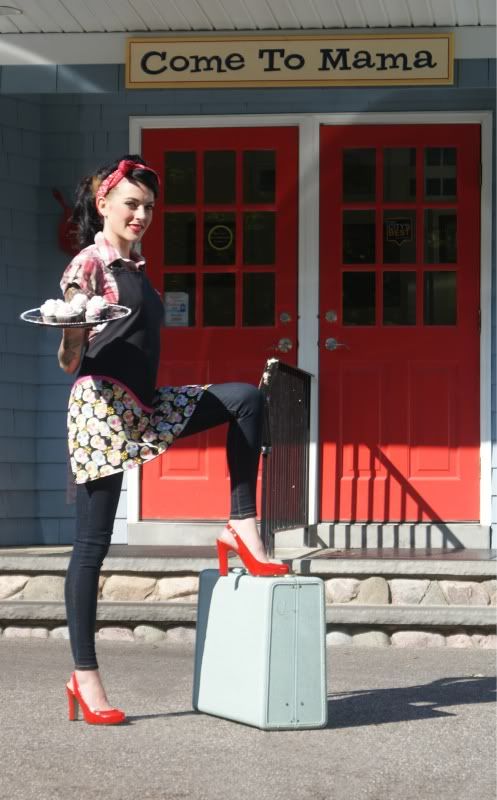 Thanks again Jenny, you are a truly special person and just like an m&m you may have a hard candy shell but your nothing but sweet on the inside! May you always have continued success and happiness!