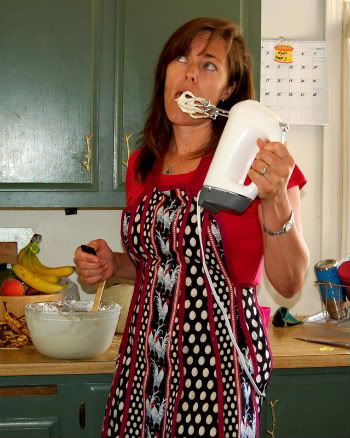 Julia of The Apron Goddesses Blog Modeling our Cindy Apron - Farmhouse Rooster
The lovely Julia of
The Apron Goddesses Blog
have once again teamed up to bring to you a very interactive giveaway... how do you mean you say? Well not only does the winner get to choose any apron from our website, you can also enter twice by adding our blog and
The Apron Goddesses blog
to your list of daily blog reading. Already a member of our blogs, no worries that just means you will have an automatic second entry, but you must leave a comment on The
Apron Goddesses page
to be eligible to win now till Sept. 9th.
P.S. There are some more ways in to gain bonus points towards the giveaway below:
Rules to enter - via
The Apron Goddesses Blog
:
Now to enter this giveaway you need to hop over to The Cupcake Provocateur and browse the apron selection. Come back here to TAG and make a comment about the hostess apron that you would like to win. That will give you one entry into the giveaway.
You can gain one more entry if you join up or already follow The Cupcake Provocateur Blog!
For five extra entries into the drawing create a blog post about this giveaway, leaving your permalink in your comment. Be sure to mention this in your entry.
And for 10 extra, bonus chances at winning send in a picture of you or a family member wearing an apron and a few words about you and your apron. Give me the dirt! Leave a comment that you are sending in a photograph too! (Contact is above) No headless apron wearers please!! We will write up your "apron-ography" in the weeks to come.
The Rules are from The Apron Goddesses Blog, Please leave a comment to her post to enter the giveaway.... but please leave a comment here as well... they wont count towards the entry but they will make me happy :)